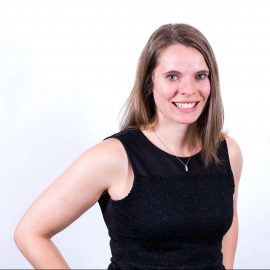 Kristi Hunter, MPT, BSc,
Bachelor of Science (BSc)
Masters of Physical Therapy (MPT)
Certified in Acupuncture (CAFCI)
Kristi's love of sport and exercise stems from her career in volleyball, which she played at the university and national level. Although she doesn't play competitively anymore she does continue to coach and train various volleyball athletes. In her spare time, Kristi stays active and can be found playing the occasional game of slo-pitch or curling.
After receiving her Bachelor of Science at the University of Manitoba, she proceeded to enroll in the School of Medical Rehabilitation's Master of Physical Therapy program where she developed a great interest in manual therapy and exercise prescription.
She has taken several post-graduate courses in the field of manual therapy, exercise prescription and acupuncture.
Kristi's calm demeanor and thorough approach to physiotherapy make her very well-liked by her patients and co-workers.
Kristi is currently on maternity leave. Coverage is available for her patients. Call 204.813.5936 for more information.