About Our Winnipeg Acupuncture Treatment
Acupuncture is a treatment used to reduce and relieve pain and to speed up and encourage healing. A certified physiotherapist can use it as part of their physiotherapy treatment plan. Acupuncture involves inserting thin needles into specific places on the body called "acupoints". Only disposable sterile acupuncture needles are used.
Acupuncture is used mostly for treatment of acute and chronic pain, muscle spasm, tenderness and headaches. Each acupoint lies within the skin and muscle region and is related to the location of pain. The needles may be stimulated by hand or electrical stimulation, or heated locally.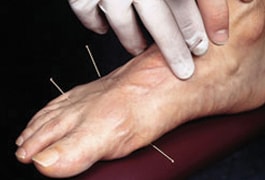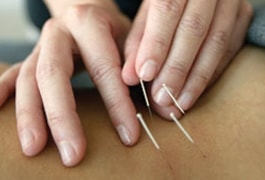 Does It Hurt?
There often is a dull ache (referred to a "chi") with needle manipulation, but the entire procedure is relatively painless. The needles are very fine and have a blunt tip, which is why there is no bleeding. It is often compared to a mosquito bite.
How Does Acupuncture Work?
Acupuncture works by stimulating the body's neuroendocrine system to produce its own natural pain relieving chemicals called "endorphins" and "serotonins". These natural chemicals help the body heal itself and are excreted by the brain into the circulatory system.
Medical studies have compared physiotherapy treatment plans with and without using acupuncture. The results indicate that those who had acupuncture, as opposed to who did not, had faster and longer lasting benefits.
What Are the Side Effects?
Acupuncture is very safe and there are rarely any side effects such as a short period of nausea or lightheadedness.
It is normal to feel relaxed and/or fatigued after treatment.
Bruising occasionally occurs at the needle site.
For further information please contact us at (204) 813-5936 or visit the Acupuncture Foundation's website: www.afcinstitute.com
Before Your Appointment
Have a light meal and stay hydrated.
Avoid alcohol or caffeine.